MONEY-value of silence
by Masaki Hirano

In the beginning of the 21st Century, the collapse of subprime lending occurred in USA as a symbol of a bankruptcy of Lehman Brothers Holdings Inc. provoked a large-scale credit contraction and keeps on causing a serious financial crisis to the world. A lot of people lost their houses, jobs and even hopes.During the 20th century, after wars or revolutions finishing, hyperinflation occurred and then devalued currency was carried out frequently. When did the human society give roles as storage(saving), interest(self-propagation) and derivative financial instrument to "money" which was an originally means as a measure of labor or equivalent give-and-take of goods?

It is positioned on a destiny of a large bankruptcy. It contradicts with "rhythm of universe" clearly. Air and water exist since the earth was born, but it is just several thousands years ago that the human being created a system of "anti-aging money". How can we endure the economic disparities while we constitute a human society. If the "present" that a lot of wealth piled up on the planet is possessed by a few people, is considered as the point of limit, it should be time to suspect common sense of "money" and snuggle to nature. Some stock certificates, banknotes, bonds and military hand votes used for this exhibition are completely worthless and redemption of some expired. There are some of firms which could avoid bankruptcy but was purchased with low price and has still remained the company name. Moreover, there are some that its value was detracted by hyperinflation but was paid at face value.

『MONEY-Value of Silence』Hommage to Silvio Gesell & Michael Ende

Masaki Hirano lives and works in Tokyo, Japan.
To view more of Masaki Hirano's work, please visit his website.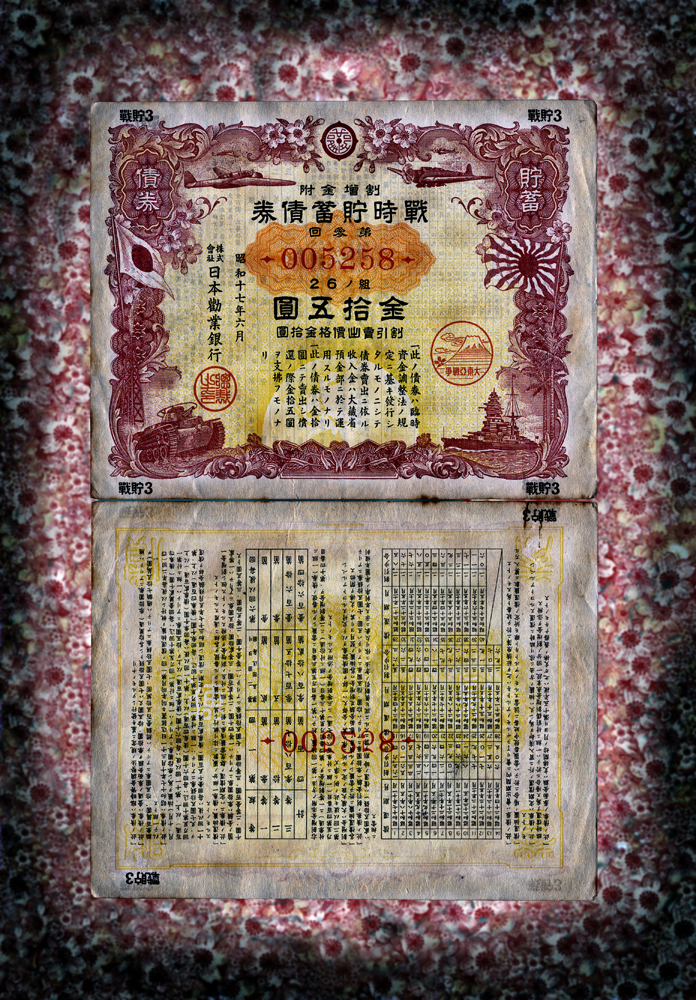 Wartime National Treasury Bonds-Japan
According to the law established in 1937, The Empire of Japan continued to increase government bonds (for war expenditure procurement). These war bonds were sold at department stores, post offices, tobacco shops and others. Everything became worthless after the defeat.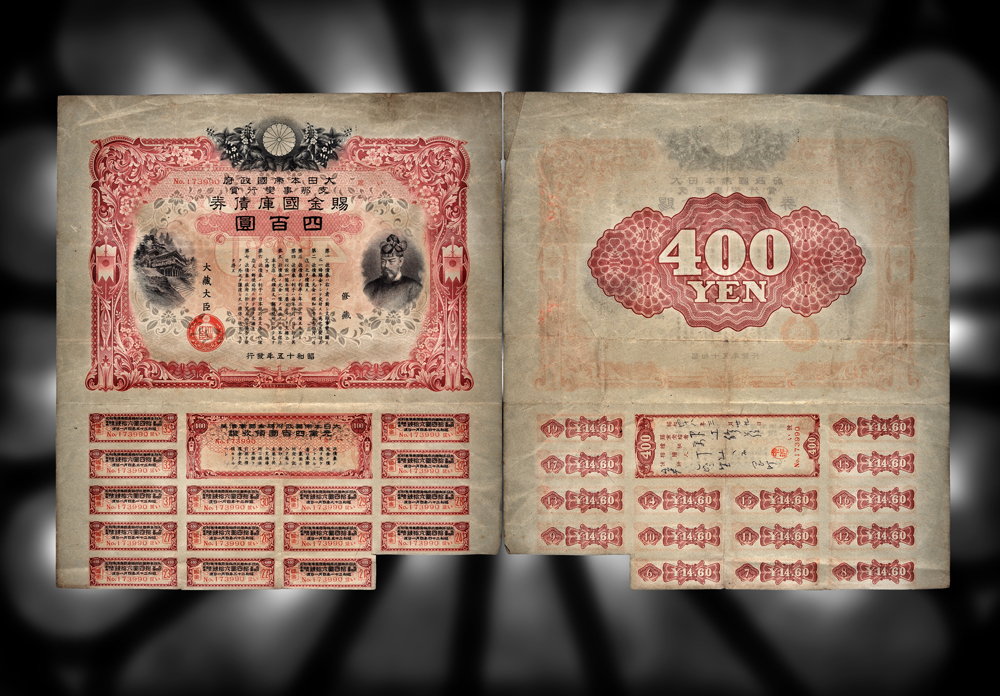 Grant treasury bonds
It was given to Japanese soldiers who served in World War II instead of compensation.
About 3.8 million of them were issued, about 1 billion yen.
Everything after the defeat became ineffective.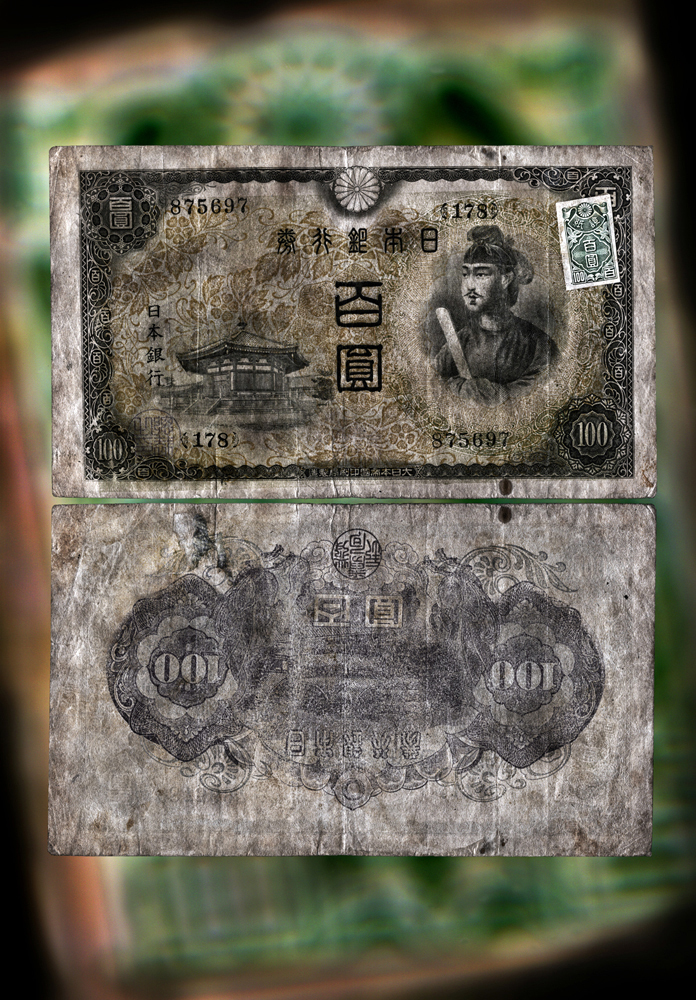 Paste stamp Paste Bank of Japan Notes 
In 1946, the year after the defeat, the Japanese government issued a blockade of deposits and savings by all financial institutions.
All the people's financial assets were invalidated and the Japanese government succeeded in Deletion of debt.
Because the issuance of new bank notes will not be in time, the government has circulated old bills stamped for six months.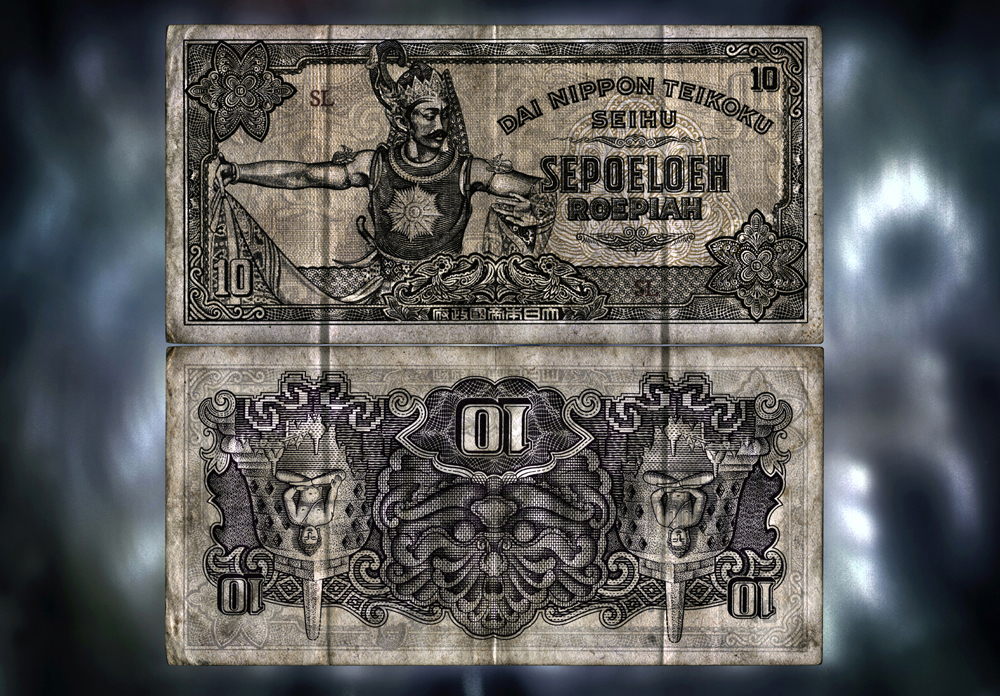 Published by the Japanese Empire of Japan. Military currency10 rupiah.
It was distributed in the former Burma area and became ineffective after Japan's defeat.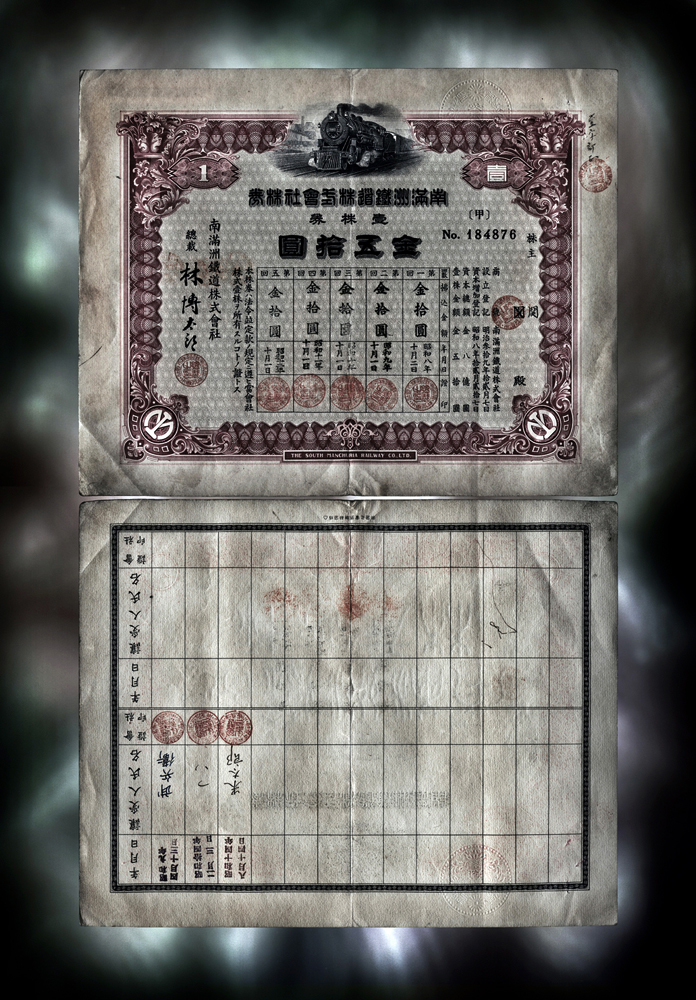 South Manchuria Railway Co., Ltd. - stock certificate
South Manshuria Railway Co., Ltd. was founded in 1906 as a result of the Russo-Japanese War. All interests were lost after Japan's defeat.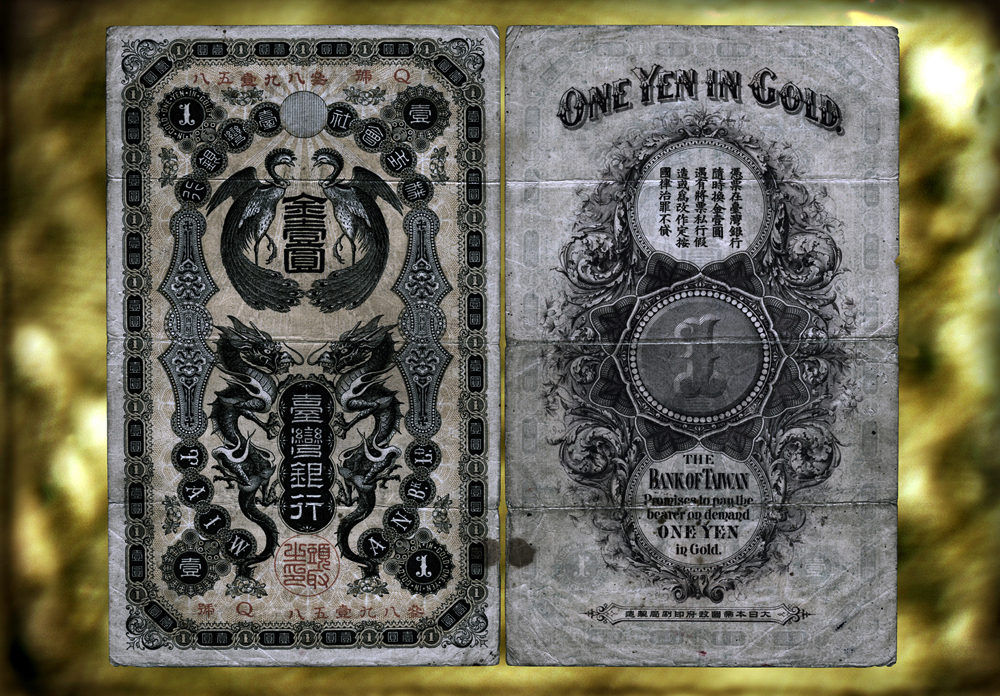 Taiwan Bank Convertible Bank Notes
Taiwan became a Japanese colony as a result of the Sino-Japanses War. Established in 1899. This bank played a major role in advancing Japan into Southeast Asia. It was dismantled after Japan's defeat.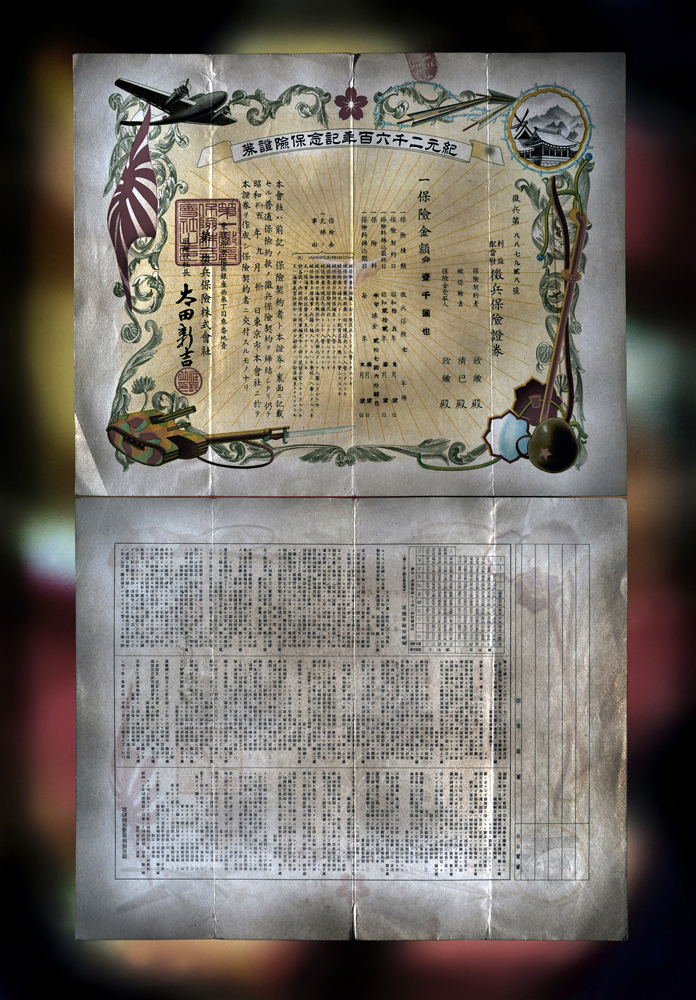 Draft insurance policy—Japan
Japan conscription insurance company was founded in 1898.
A Japanese boy less than 15 years old was able to join.
Boys are important people who support the old age of their parents.
Despite being poor, parents participated in draft insurance so that the lives of old age will not be lost by the war.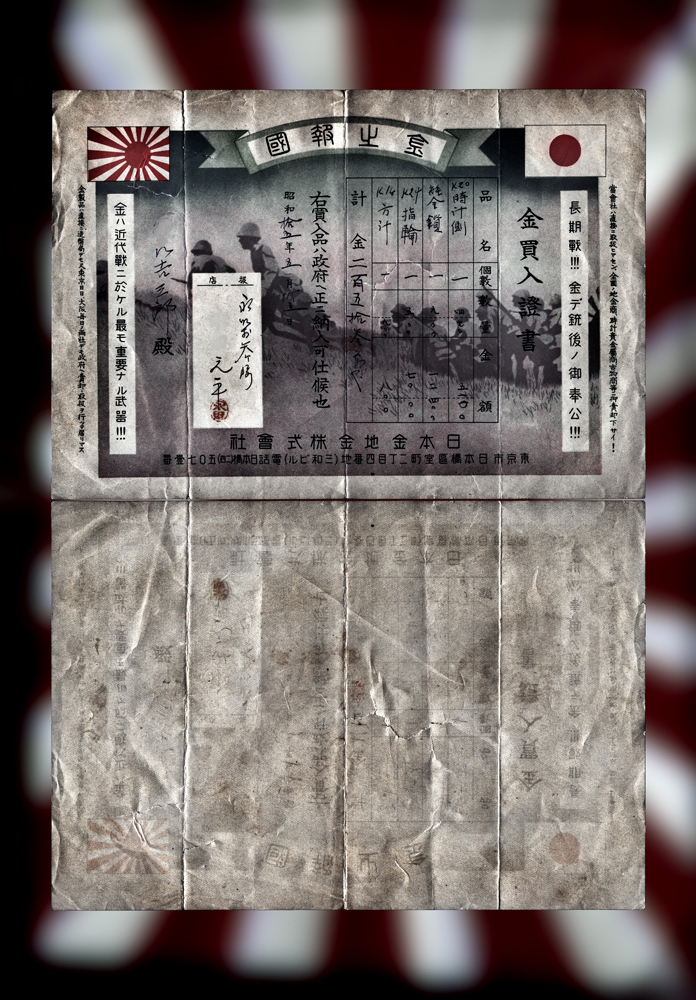 Gold purchase securities - Japan
In 1938, the "National Mobilization Act" was enacted from the necessity of continuing the war.
Forcible collection of metal owned by citizens was carried out for weapons production (except for gold teeth and gold pens).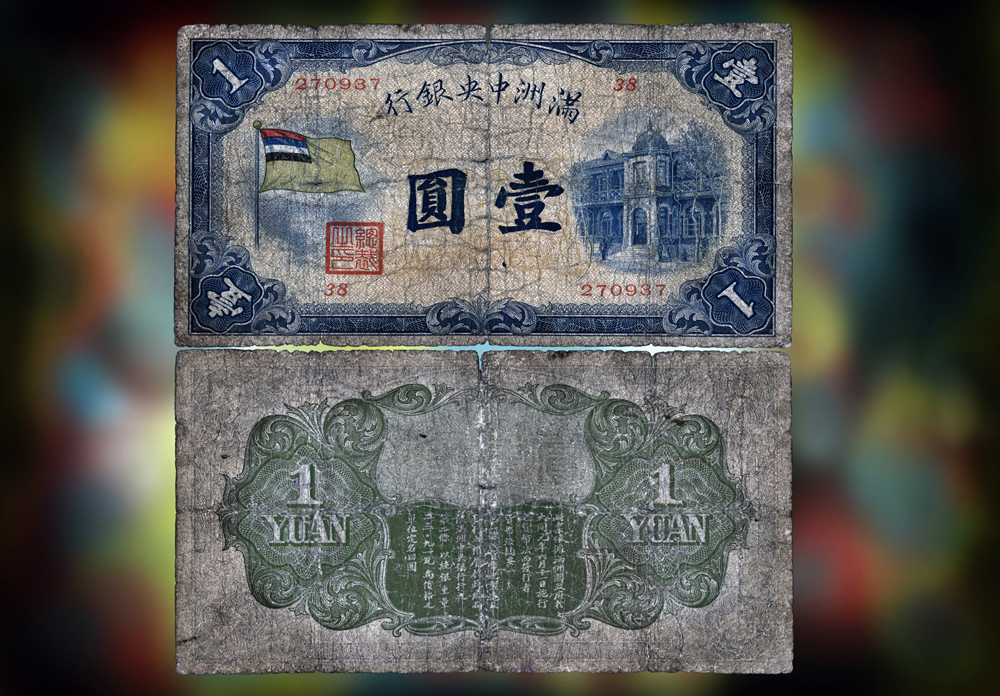 Manchurian Central Bank Note (Nonconvertible banknotes - Manchuria Country is a Japanese colony)
This bank was founded in 1932, after the establishment of Manchuria County. There was no obligation to exchange with gold or silver.
Distribution stopped in 1947 after Japan's defeat.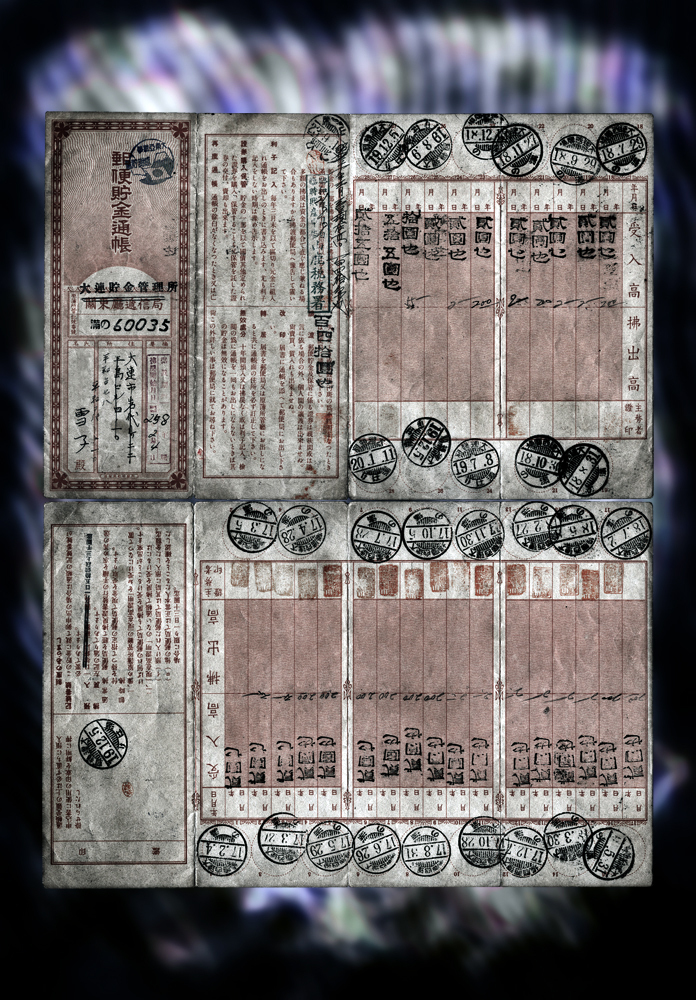 Former Manchuria County Postal Savings Passbook
The final balance is 140 yen.
After postwar Japan Post's authorities refused payment due to the annihilation of Manchuria.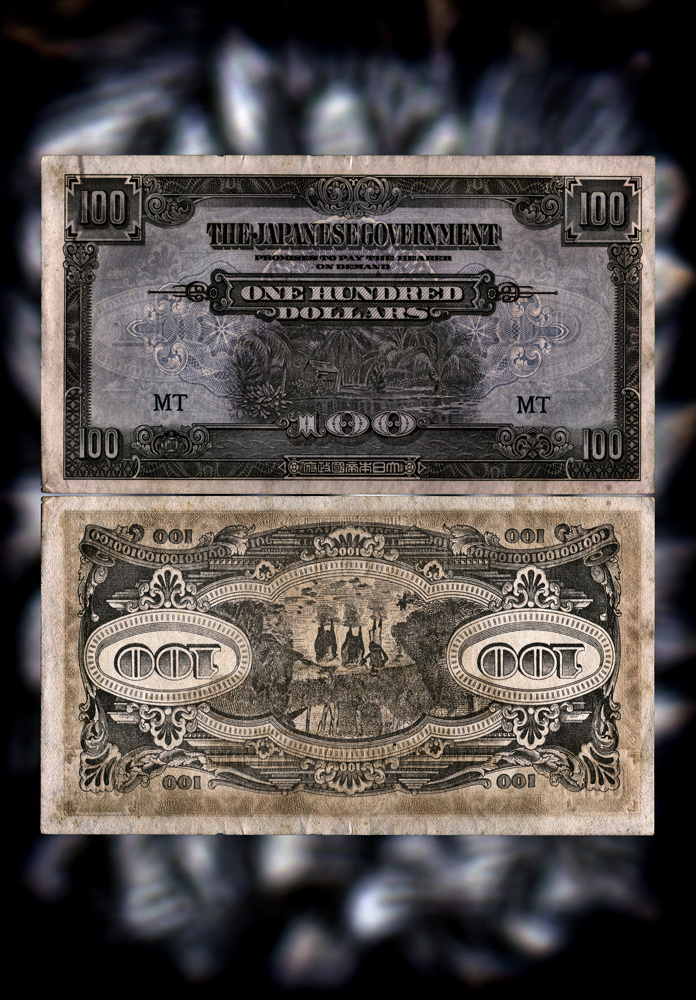 Empire of Japan- 100 dollar bill - Japan
During World War II, the military currency used by the former Japanese army in Southeast Asia. Issued in 1942
After the defeat of Japan, the San Francisco treaty abandoned the claim right. There is no compensation after that.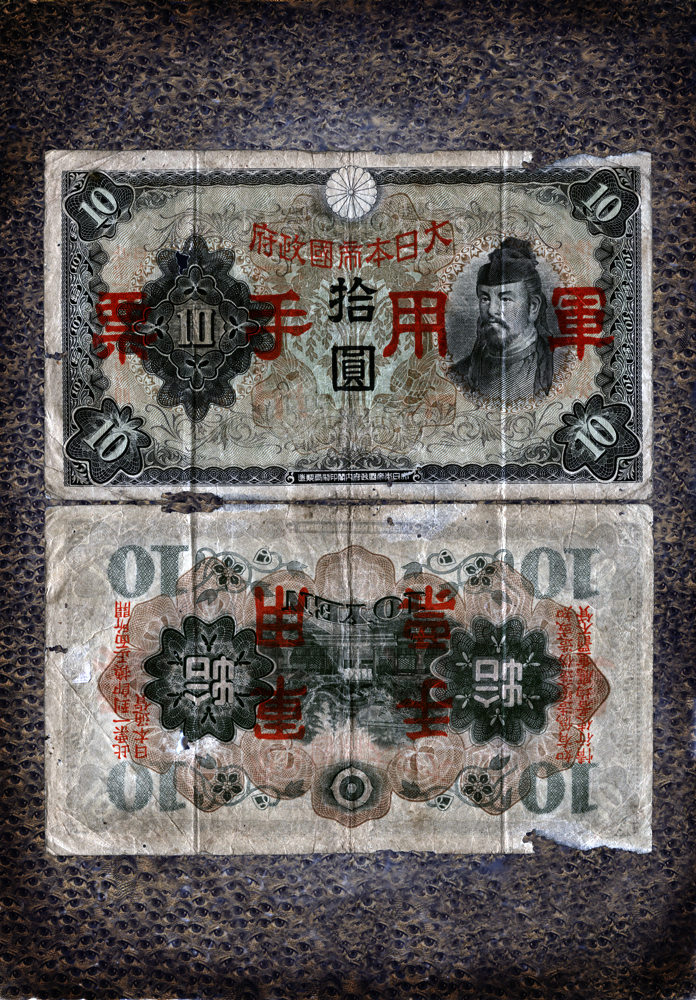 Military currency (second Sino-Japanses War) –Japan
Since 1938, 1,536,000 copies have been issued in Asia, and residents were forced to change money. Following the defeat of Japan, the San Francisco Peace Treaty lost their claims. However, lawsuits seeking compensation after the war have occurred frequently in all parts of Asia, but all lawsuits have been dismissed.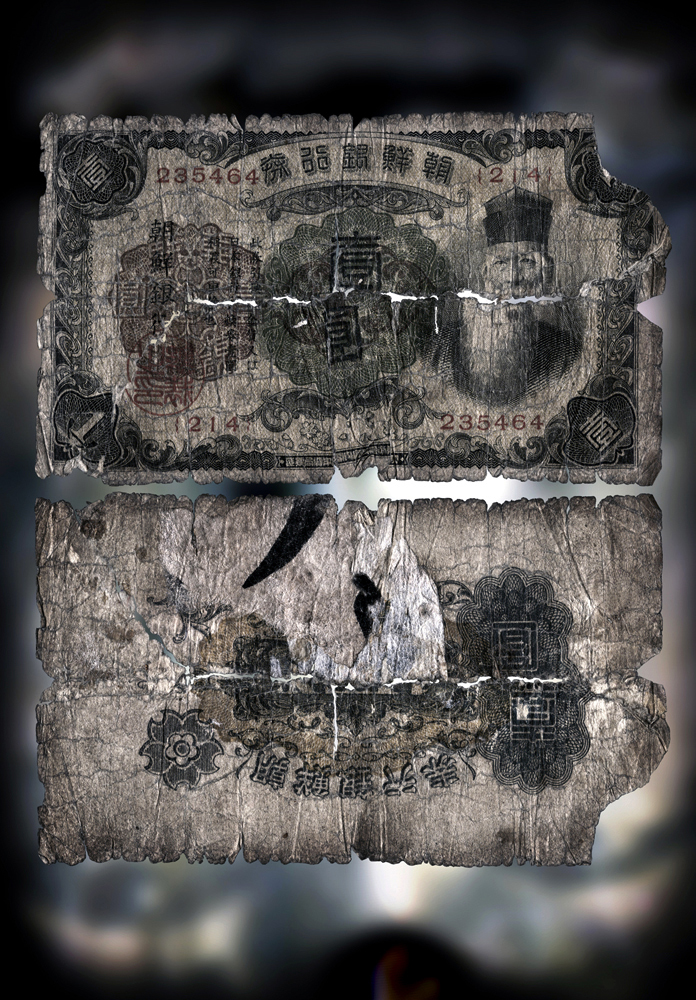 Korea Bank was founded the following year when it became a Japanese colony in 1910. Korean bank tickets were guaranteed to convert with gold coin and Japanese bank notes. It was dissolved by GHQ after Japan's defeat.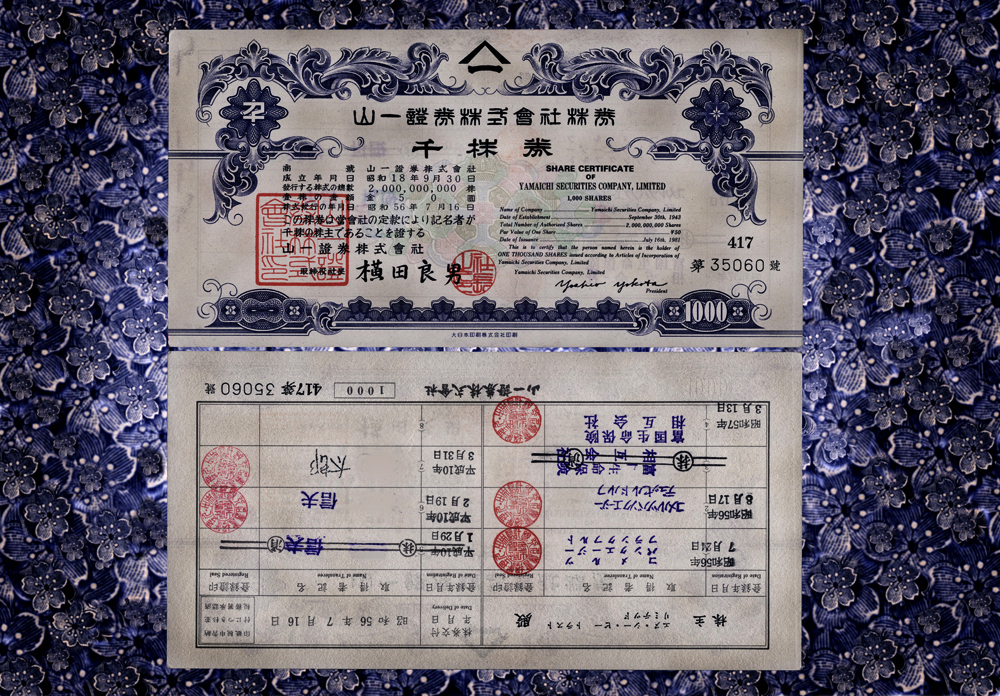 Yamaichi Securities Co. Ltd  Stock certificate-Japan
Major Japanese securities firms after the war - stock certificates
This securities company was voluntarily discontinued in 1997 with unfair accounting hidden in loss.
This business discontinuance has had a major impact on Japanese society.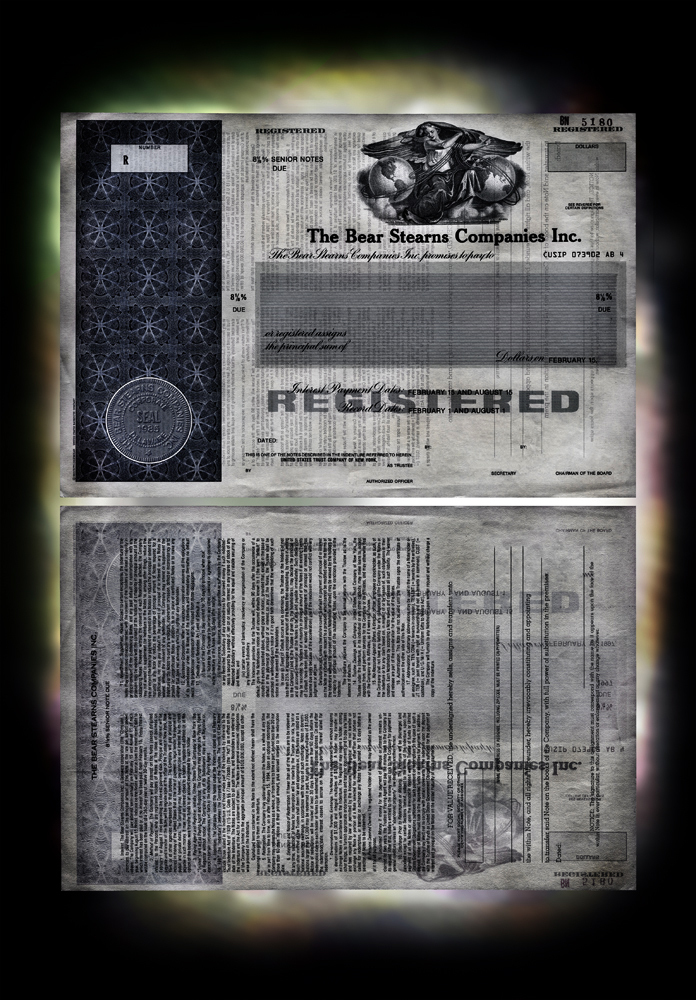 Bear Stearns Stock certificate USA
A major investment bank in the United States founded in 1923. The peak period of this investment company was ridiculed as "Vamp of the recession". It collapsed in the subprime loan problem in 2007, and was bought and sold by JP Morgan Chase Bank.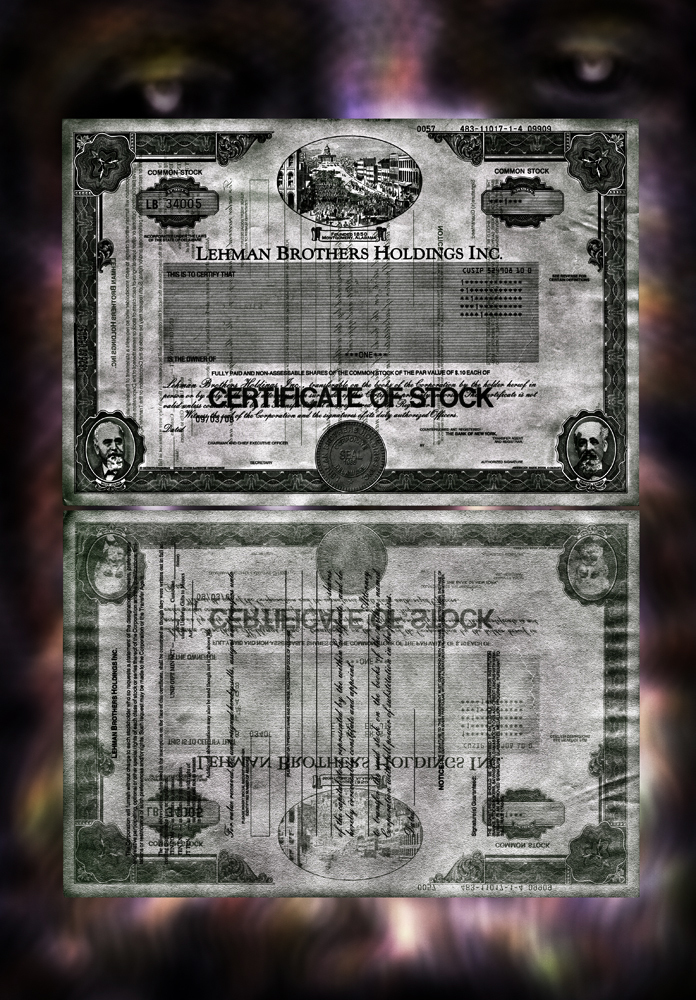 Lehman Brothers share certificate - USA
This securities company founded in 1884 failed in 2008 due to the burning of the loan due to the collapse of the American housing bubble.
Total liabilities were $ 631 billion.
Losses of financial institutions worldwide amounted to approximately 1.3 trillion dollars (International Monetary Fund announcement).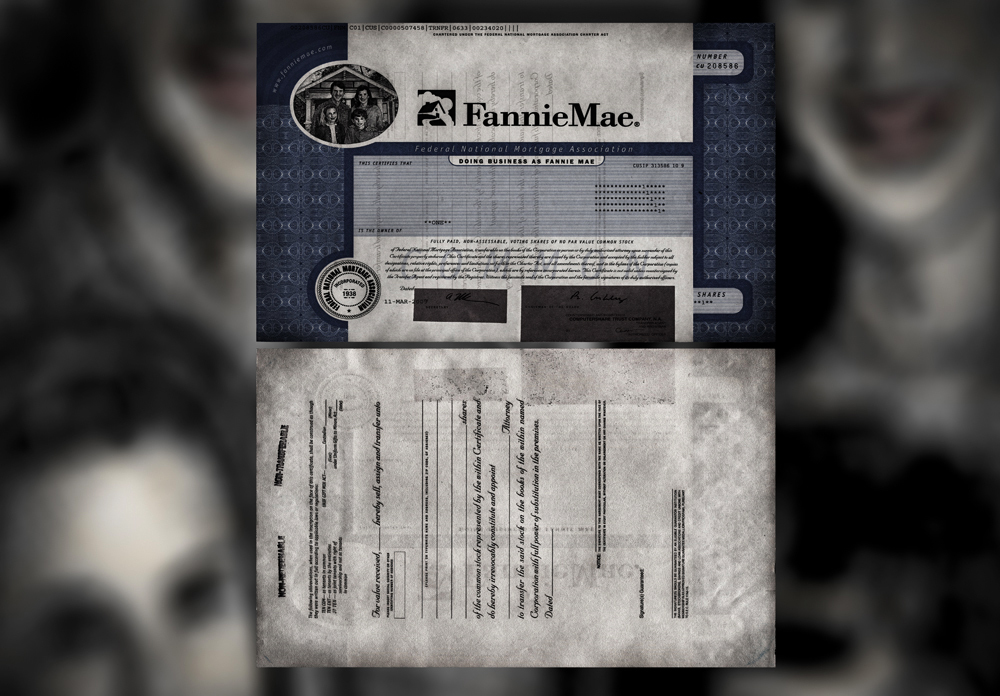 Fannie Mae-USA
Fannie Mae Securities (Federal Home Housing Corporation, USA)
Established in 1938 with the aim of providing stable housing.
The securities of this securities company had high creditworthiness as a federal government agency bond. However, it caused a loss of $ 2.1 billion due to the issue of subprime loans.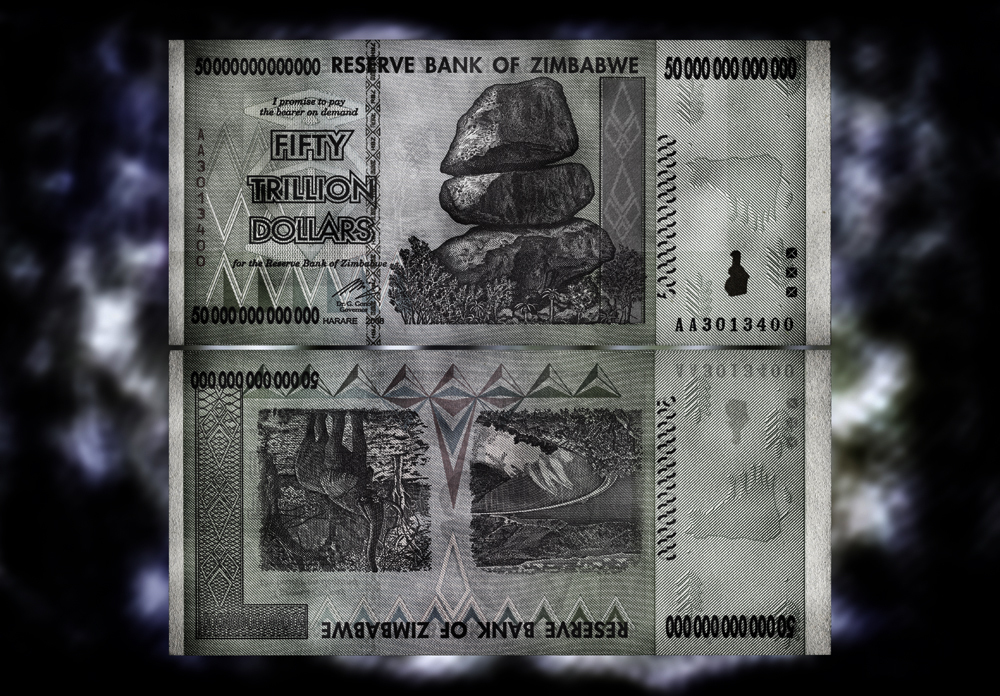 Zimbabwe · 50 trillion dollars –Zimbabwe
In 2009 Zimbabwe Dollar recorded hyperinflation of 500 billion percent, issuance stopped. In 2015, one US dollar and 3.50 billion billion Zimbabwe dollar were equal.
沈黙の価値「お金」

21世紀初頭、リーマンブラザーズ倒産が象徴するアメリカのサププライムローンの破綻は大規模な信用収縮を起こし深刻な金融危機を今の世界に及ぼしている。多くの人が家を失い、仕事を失い、そして希望さえ失いつつある。20世紀においても戦争、革命の後などにハイパーインフレーションが発生し、通貨の切下げがしばしば行われた。本来は労働の尺度、物の等価交換の便利なツールだったはずのお金は何時から劣化することのない保存(貯蓄)、利子(自己増殖)、金融派生商品としての役割を人間社会からあたえられたのだろうか?地球上に蓄積された富を僅かな人たちが所有する今が限界点だとすれば、たかだか数千年続いできた「お金」の常識を疑い、自然に寄り添う方向に変えていく事を模索する時期にきているに違いない。破綻は免れたが安値で買収され、社名が今でも存続しているもの、又ハイパーインフレーションなどでその価値を減じたものの、額面通りの支払いが行われたものもある。

シルビオ・ゲゼル ミハイル・エンデにこの作品を捧げる

平野正樹のウェブサイト。
---
写真キャプション 上から順番に

1.戦時貯蓄債券  15円
1937年に成立した法律によって大日本帝國政府は国債(戦費調達の為)を増発し続けました。これらの戦争債券はデパート、郵便局、タバコ屋などで売られた。敗戦後全てが無価値になった。

2.賜金国庫債券 
第二次世界大戦に従軍した日本兵に報酬の代わりに与えられた。
それらは380万件、約10億円が発行された。
敗戦後全てが無効になった。

3.証紙貼り付け 日本銀行券 百円
敗戦の翌年の1946年、日本政府は全金融機関の預貯金を封鎖を発令した。
国民の金融財産は全て無効になり、日本政府は借金は帳消に成功した。
新しい銀行券の発行が間に合わない為、政府は証紙を貼り付けた紙幣を半年間流通させた。

4.大日本帝國政府発行。 軍用手票 10 ルピア。
旧ビルマ地域で流通させ、日本敗戦後無効となった。

5.南満州鉄道株式会社ー株券
南満州鉄道株式会社は日露戦争の結果1906年に設立された。第二次世界大戦の敗戦後すべての権益は失われた。

6.台湾銀行兌換銀行券
台湾は日清戦争の結果日本の植民地となった。1899年に設立された。この銀行は日本の東南アジアへの進出に大きな役割を果たした。日本の敗戦後解体された。

7.徴兵保険證券―日本
日本の徴兵保険会社は1898年に設立されました。
15歳未満の日本人男の子が参加できた。
男の子はその親たちの老年期を支える重要な人材です。
親たちは貧乏であるにもかかわらず、戦争によって老後の生活が失われることがないように徴兵保険に参加しました。

8.金買入證券ー日本
1938年、戦争続行の必要から「国家総動員法」が制定された。
武器生産の為に国民所有の金属が強制回収が実行された(金歯、金ペンを除く)。

9.満州中央銀行券 不兌換紙幣 - 満州国(日本の植民地)
この銀行は,満州国の設立後、1932年に設立されました。 金や銀と交換する義務はありませんでした。
日本の敗北後、1947年に流通は停止した。

10.旧満州国 郵便貯金通帳
最終残高は140円。
敗戦後の日本郵政当局は満州国の消滅を理由に支払いを拒否した。

11.大日本帝國発行ー100ドル札ー日本
第二次世界大戦中、旧日本軍が東南アジア界隈で使用した軍用手票。1942年発行
日本の敗戦後、サンフランシスコ条約で請求権は放棄された。その後の補償は一切されていない。

12.軍用手票(日華事変)
1938年以降アジアで153万6000枚が発行され、住民は強制的に両替をさせられた。日本敗戦後、サンフランシスコ平和条約によって彼らの請求権は消滅した。しかしながらアジア各地で戦後補償を求める訴訟が頻発したが、全ての訴訟は棄却された。

13.朝鮮銀行券
朝鮮銀行は1910年に日本の植民地になった翌年に設立された。朝鮮銀行券は金銀貨や日本銀行券との兌換が保証されていた。日本の敗戦後GHQにより解散させられた。

14.戦後の日本の大手證券会社ー株券
この證券会社は1997年損失隠しの不正会計で自主廃業した。
この廃業は日本の社会に大きな影響を与えた。

15.1923年に創立されたアメリカの大手投資銀行。この投資会社の最盛期は「不況の禿鷹」と揶揄された。2007年のサププライムローン問題で破綻し、そしてJPモルガンチェース銀行に救済買収された。

16.リーマン・ブラザース 株券ーUSA
1884年創立のこの證券会社はアメリカ住宅バブル崩壊によるローンの焦げ付きで2008年に破綻した。
負債総額は6,310億ドル。
全世界の金融機関の損失は約1兆3000億ドル(国際通貨基金発表)になった。

17.ファニーメイ證券(アメリカ連邦住宅公庫)—
1938年に安定した住宅供給を目指して設立された。
この證券会社の證券は、連邦政府機関債とされて高い信用力があった。しかし、サププライムローンの問題で21億ドルの損失を出した。

18.2009年ジンバブエ・ドルは5000億パーセントのハイパーインフレーションを記録し、発行が停止された。2015年、一米ドルと3.50,000,000,000,000,000ジンバブエ・ドルは同価値だった。