National Song Contest & Other Works
by Soonchoel Byun


From the Map to the Territory
"The public's life was previously crucial to the face of history. However, the fact that the public consciously represent their facial expressions as to be their facial muscles—this is a completely new phenomenon. This phenomenon has a diverse, conspicuous effect particularly on art." (Walter Benjamin)

National Song Contest
National Song Contest (2005-2020) is a popular singing program that aired from November 30, 1980 to February 23, 2020 (1,980 times). This nationwide singing competition program has currently been discontinued due to the spread of COVID-19. The show's homepage insinuates that the weekly singing festival derived from a radio singing program in the 1950s. Coincidently, KBS hosted Gukpung 81 (國風81), a large-scale festival for college students in 1981. Behind the scenes, however, the state had intervened in this festival: it was designed by the state after the massacre caused by the May 18 Gwangju Democratization Movement. Rather than being voluntarily organized by the general public as part of their cultural and artistic endeavors, many festivals in modern times have often stemmed from nationalism. This is the same as how UNESCO's cultural heritage registration has degenerated into political games among nations, regions, and academic disciplines in recent years when tangible and intangible folk and cultural heritage were once valued.
As is widely known, modern Korean society's cultural identity can be seen as a shift from each individual's intrinsic time to relative time. Above all, National Song Contest is a weekend music festival that has connected the eight provinces of South Korea at the same time every week under the frame of a racially homogeneous nation using mass media. This festival conflates media and music, music and festivals, media and regions, and the nation and people. "National Song Contest is closely bound up with our experience with an imagined community that joins regions, the state, and people into one." The state tries to establish its people's identity through history, education, and systems, but people tend to feel they are members of the state with their experience through media. Sports games such as South Korea versus Japan football matches and the Olympic Games provide people with experiences of more potently being one in body and spirit than any other event. That is to say, the media of the late 20th century brings about a festival that is a mixture of temporal concepts of the past, present, and future and spatial concepts of the nation. The 1980s is seen as a period when the early-stage festival industry was carried out using the nationwide network of the media.

Map and Territory
Byun Soonchoel has paid heed to National Song Contest with his desire to break away from aesthetics of photography as a contemporary art. He drew attention from both the photography and art scenes with his Couples series featuring interracial families. The characters in Couples stare before them expressionlessly. These typographical photographs do not lend any emotion to objects, be they are figures, things, or natural objects. Expressionless typographical photographs ask viewers to see images in a completely new way. An experience in which memories, common sense, and knowledge become useless in just a moment is one of the effective qualities of art that has been around since surrealism. Their expressionless faces deconstruct the modern perspective of seeing the body as a linguistic symbol. This has become a type of trauma that escapes from the fetters of meaning. Art is a world that repeats the binds of contradictions to gain contemporary characteristics. Thus, a representation of the human body in contemporary photography may spark very fierce discourse.
How do we represent the human body? A deadpan face may be an option in contemporary photography. Expressionlessly represented characters exist only as images, departing from any concrete meaning and context. Ultimately we come to accept how closely they are associated with politics, culture, gender, and identity. Typographical figure photographs like those from Couples bring forth an aesthetic event while putting emphasis on senseless neutrality. A contemporary photograph unmasks an individual's life and gaze through quotidian narratives. Seemingly non-professional snapshots with an unbalanced composition are deemed to be photographs as contemporary art. Although these photographs do not follow the order of typical photographic aesthetics, this natural angle has become an aesthetic device to infer the relationship between the photographer and his subjects. Photography as contemporary art can perhaps be seen as a process of discovering a new aura. Extreme Objectivity (Sachlichkeit), on the contrary, extreme voyeurism, and moreover immaterial art without substantial works of art through digital technological media may also be included.
Media researcher Shim Hye-ryeon denotes the development situation of discussions on the "return of aura" or the "recovery of aura" in reference to the media environment that has changed today and the conditions of contemporary culture and art. Photography as art seems to be an attempt to elucidate technological media and perceptions. A question concerning how to escape from the limits of representation seems to help transform figures into meaningless symbols and present a real outside meaning, capturing scenes of everyday life. At some point Byun wanted to depart from his work of making an expressionless map with no exchange of emotions with his subjects. In the end, he took note of National Song Contest. He initially concentrated on documenting it as a cultural event but gradually shifted his focus to the participants of the singing competition.

A Masquerade as Ethnography
The cardinal element of the National Song Contest is the participant's performance. Byun naturally focuses on these participants. A host of participants putting on bombastic make-up and wearing anachronistic costumes have to flaunt their affection for their hometown and their talents, exchanging jokes with the host. Family members, neighbors, and colleagues cheer on participants holding banners with phrases to encourage them. The singing competition seems like a weekly special event thanks to its format of visiting small and large regions nationwide.
While participants, audiences, repertories, and regions change every time, contents and forms of narratives have maintained. The continuity and repeatability of such typographical hallmarks at the National Song Contest bring about the culture unique to a region through a combination of local culture and the media industry. Popular music of the 1980s was divided into the capital area's young and refined college culture and each local area's rich regional culture. The former became associated with progressive culture while the latter symbolized a local image. The long-held relations between the nation and the city were gradually disintegrated in Korean society which was in the transition to postmodernism. Since then, the city pursued its own autonomous image, departing from that of the state. As such, a modern state forged based on capital inevitably diverges from any consistent ideal or ideology. The National Song Contest links the capital area to the regions, but signs in this program, irrespective of region, are located between the past and the present.
Byun has taken photographs of many characters who took part in the National Song Contest from different generations, genders, and regions. This exhibition Let the Wind Blow features pictures he took over the last five years (2015-2019), but it is not easy to sense the difference of time in these shots. Some interesting point is discovered when following the context between the generation and their costumes. Older participants tend to be dolled up for the occasion like those who prepare their costumes for a special ritual or ceremony. A participant performed in a black school uniform and cap with rubber shoes of the 1980s carrying an abacus in his hand. (Hapcheon-gun, Gyeongnam,2019) This participant shows a typical example of a pastiche. His fashion would not allow an interpretation by semiotics. His fashion which his ambiguous in gender, use, and purpose is reminiscent of a sports event or a festival in middle or high school. A singing beggar appears, and not buttoning one's school uniform or turning up its collar stands for some minor resistance against order. His fashion is like isolated sentences (words) representing old memories and experiences. Like this, the song contest seems separated not only from time but also from region. Nobody can say exactly where someone came from. A region is implied by the phrases on the cheering rods, but the hybrid, off-time state enables viewers to guess how our lives are discontinuous.
Byun also took pictures of the audience. Two middle-aged men in mountain clothes of the same design, like twins, reveal a unique Korean subculture. (Ganjeol-got, Seosaeng-myeon, Ulju-gun, Ulsan, Gyeongnam, 2019) The middle-aged generation in Korean society is represented by ajumma and ajussi, or middle-aged women and men. Ajumma and ajussi can be said to form another gender. Their identity is regarded as some element of subculture in terms of their fashion style, way of talking, gesture, and preference. Our society incessantly gives rise to others, and these middle-aged women and men have been scapegoats of such otherization. What calls for survival or success blindly is not an individual but a society. They have remained tough throughout their difficult lives, tightening their belts. This is the image of an exemplary citizen requested by the nation but they draw no attention in reality. Our society has constantly brought about a typology of existence on the basis of gender, region, occupation, educational background, race, taste, religion, and pattern of behavior. Those who are at the summit of this typological eco system are represented or incarnated in social networking site (SNS). It is hard to grasp what's true or not. This is regarded as another boundary. The real is absent or blurred in this virtual world. Byun has consistently captured beings who are excluded and marginalized from the capital-centered society. He has documented others or subordinate subjects in Korean society through his series of photographs such as Interracial Couple, National Song Contest, and Eternal Family. Interracial Couple featuring interracial family photographs raises the issue of race; Eternal Family representing separated families using a deep learning technique raise the issue of ideology; and National Song Contest raises a question concerning modern ethnography forged by the media.

We-feeling
Byun Soonchoel has consistently paid attention to those who are always with us in our surroundings. In particular, participants in the National Song Contest appear hilarious, clownish, and bombastic, but their hybrid looks are found everywhere around the country. The scenes of Korean subculture are filled with heterogeneous, hybrid, and anachronistic images, but these draw no attention as they are so common to Koreans. Probably so, ajumma and ajussi fashion often catches foreigners' eyes. That's because they discover something rather avant-garde in vernacular designs in which the odd and practical as well as the everyday and non-everyday are mixed up. Byun elicits preexisting cultural types from the National Song Contest like Marcel Duchamp drew the concept of readymades from the established context, suggesting we look into them in a different context. We witness an unknown person's excited looks and gestures, radiating the heat of life in full make-up. Even though Byun could reach an event site using a map, he eventually discovered excitement, pleasure, and taste of real people living off the map. He gives testimony of a "we-feeling" in the ethnographic site of our contemporary culture through his photographs.
Hyun Jung (Art Critic, Prof. Inha Univ)

Soonchoel Byun lives and works in Seoul, South Korea
To view more of Soonchoel Byun's works, please visit his website, Arario Gallery website.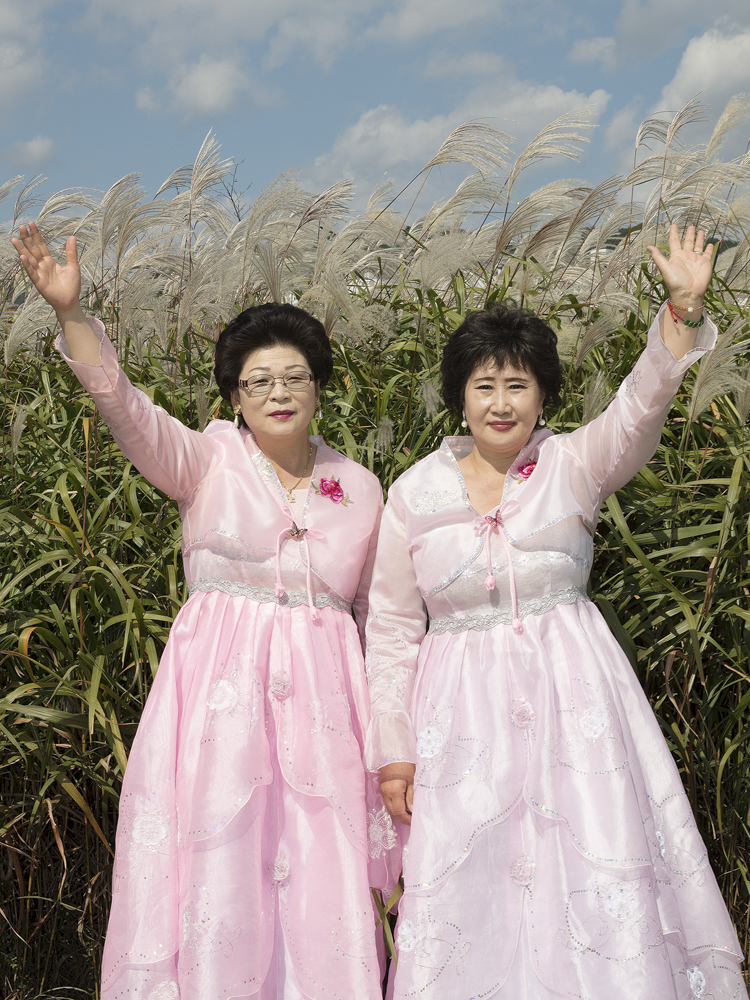 National Song Contest.Jeonggwan Central Park, Gijang-gun, Busan. 2015. 150X198cm. Archival Pigment Print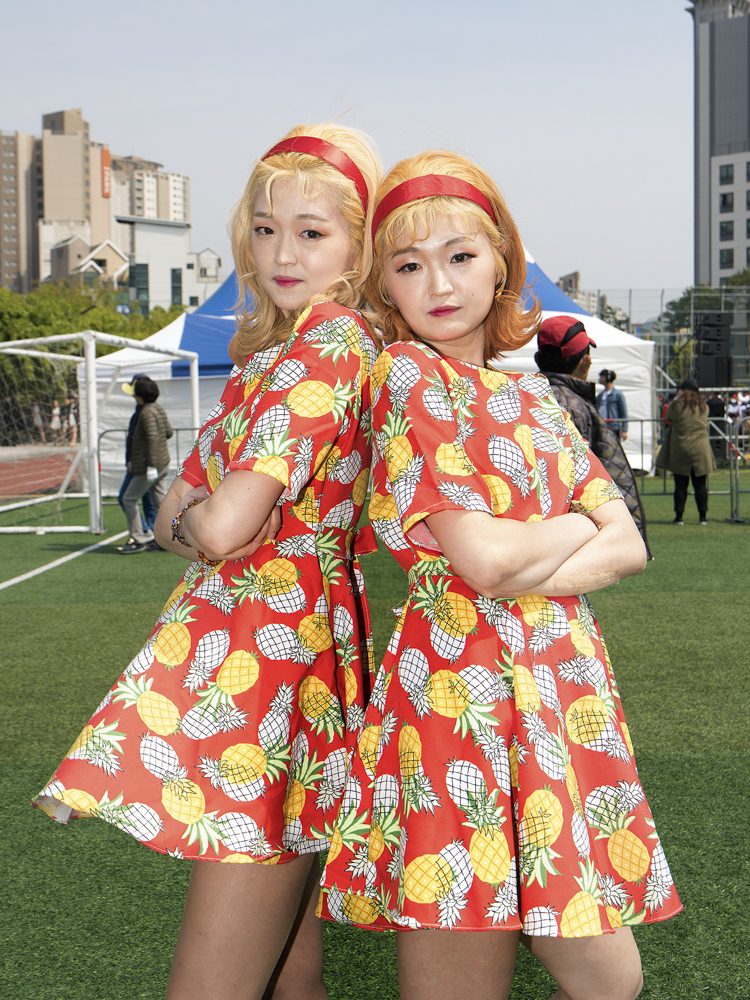 National Song Contest.Dongnae Middle School ,Dongnae-gu, Busan. 2019. 150X198cm. Archival Pigment Print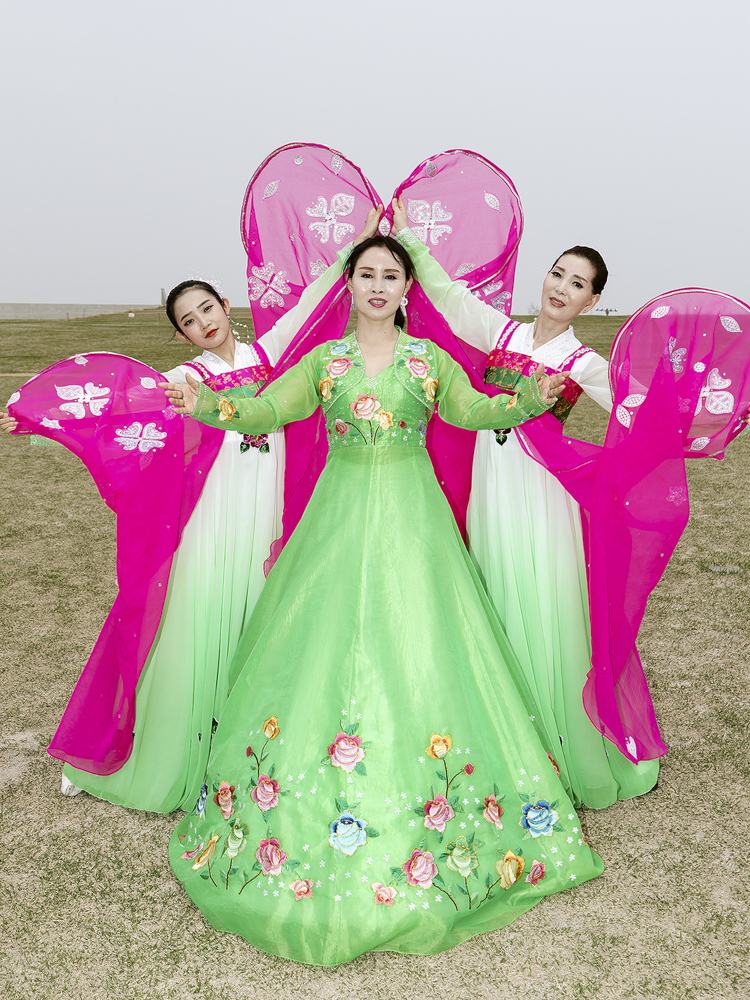 National Song Contest.Imjingak pyeonghoa-Nuri, Paju-si, Gyeonggi-do.2019.150X198cm. Archival Pigment Print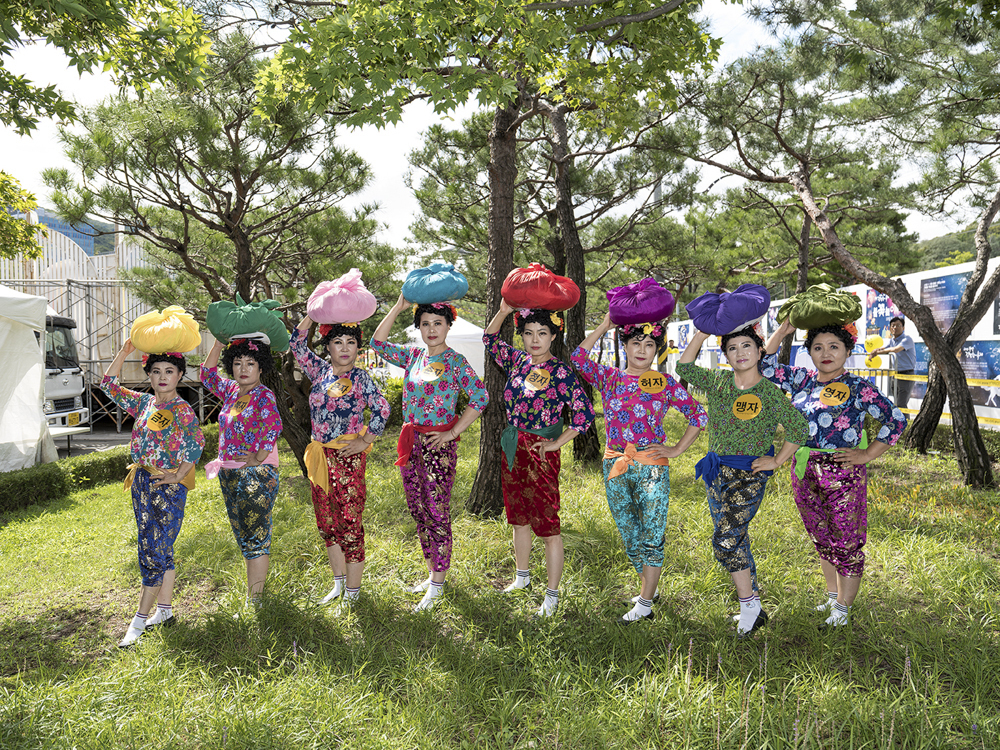 National Song Contest. Nakseongdae Park, Gwanak-gu, Seoul . 2019. 198X150cm. Archival Pigment Print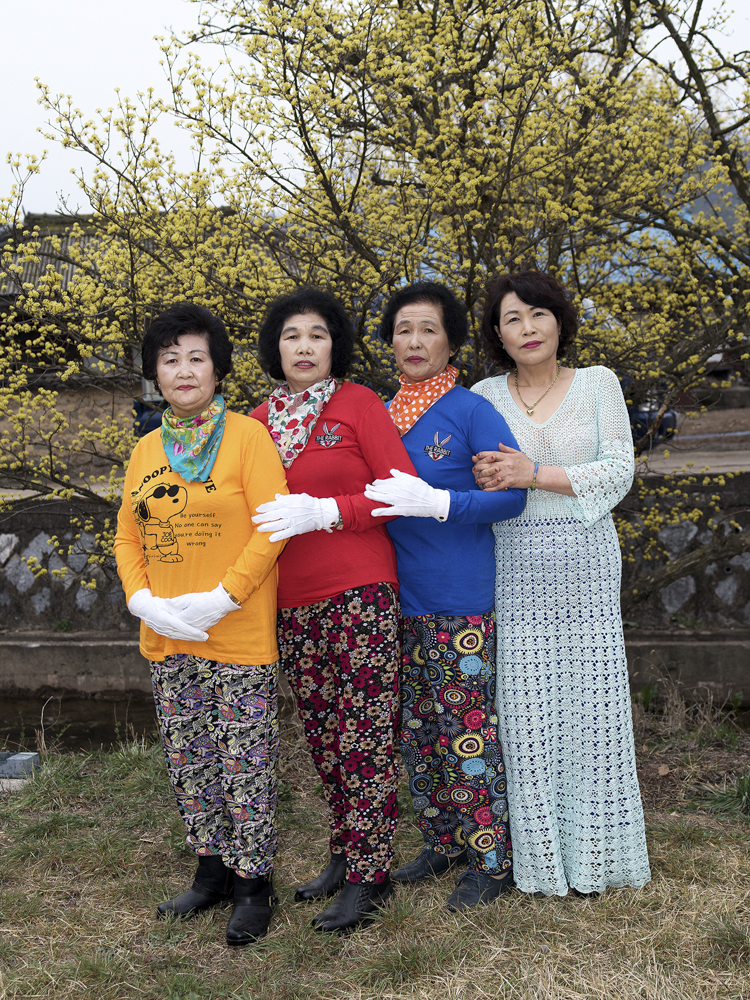 National Song Contest. Sansuyu Festival Square, Uiseong-gun, Gyeongsangbuk-do . 2016. 150X198cm. Archival Pigment Print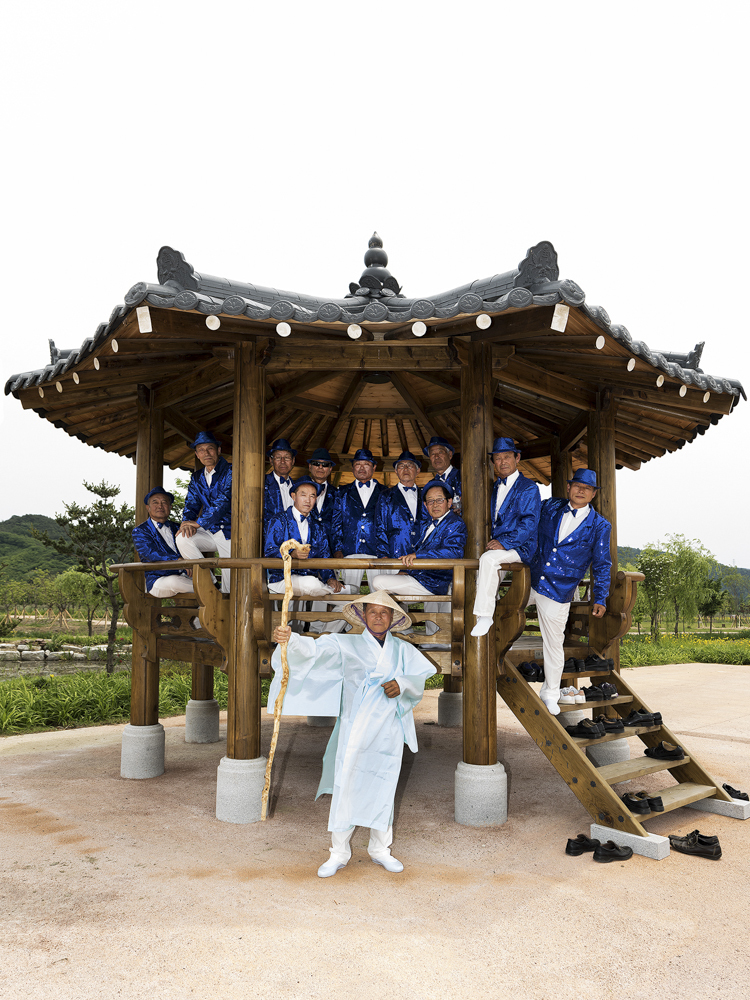 National Song Contest.Changpowon, Geochang-gun, Gyeongsangnam-do . 2019. 150X198cm. Archival Pigment Print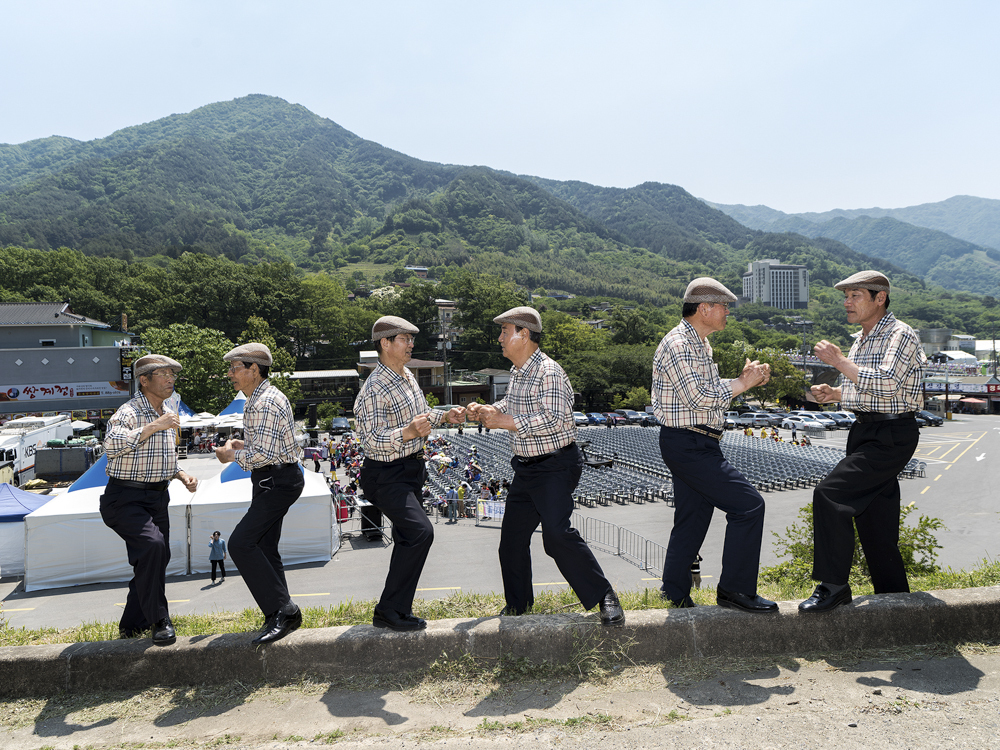 National Song Contest.Ssanggyesa Temple, Hwagae-myeon, Hadong-gun, Gyeongsangnam-do 2019. 198X150cm. Archival Pigment Print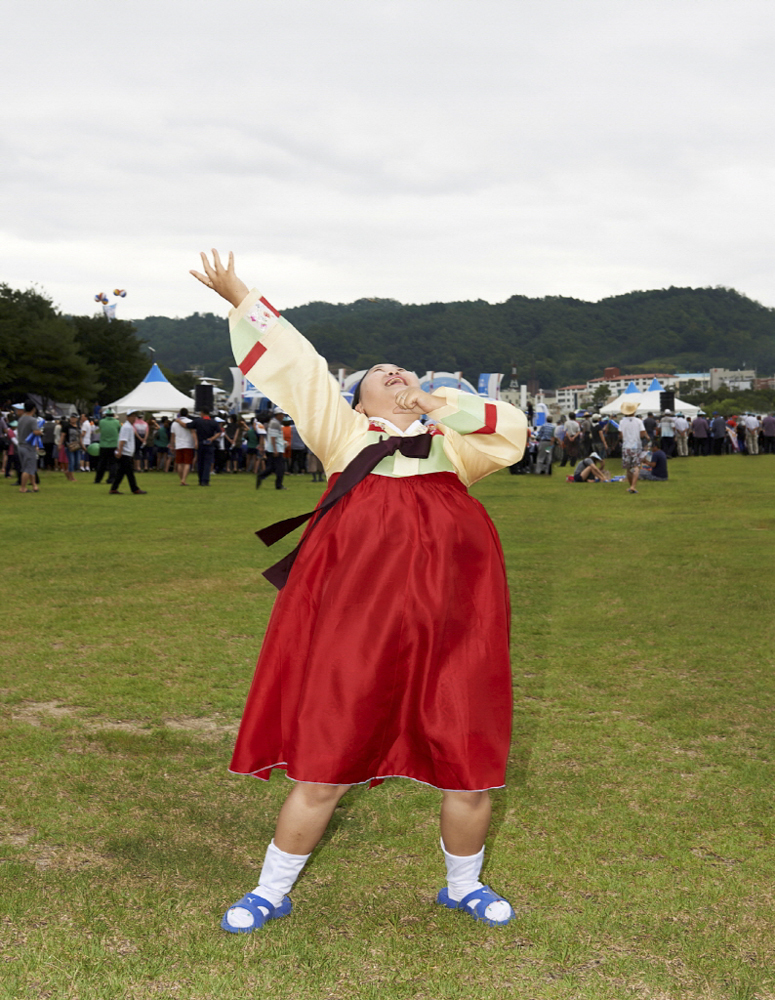 National Song Contest.Gyeongsangbuk-do Bonghwa-gun.2014.76x102cm.Archival Pigment Print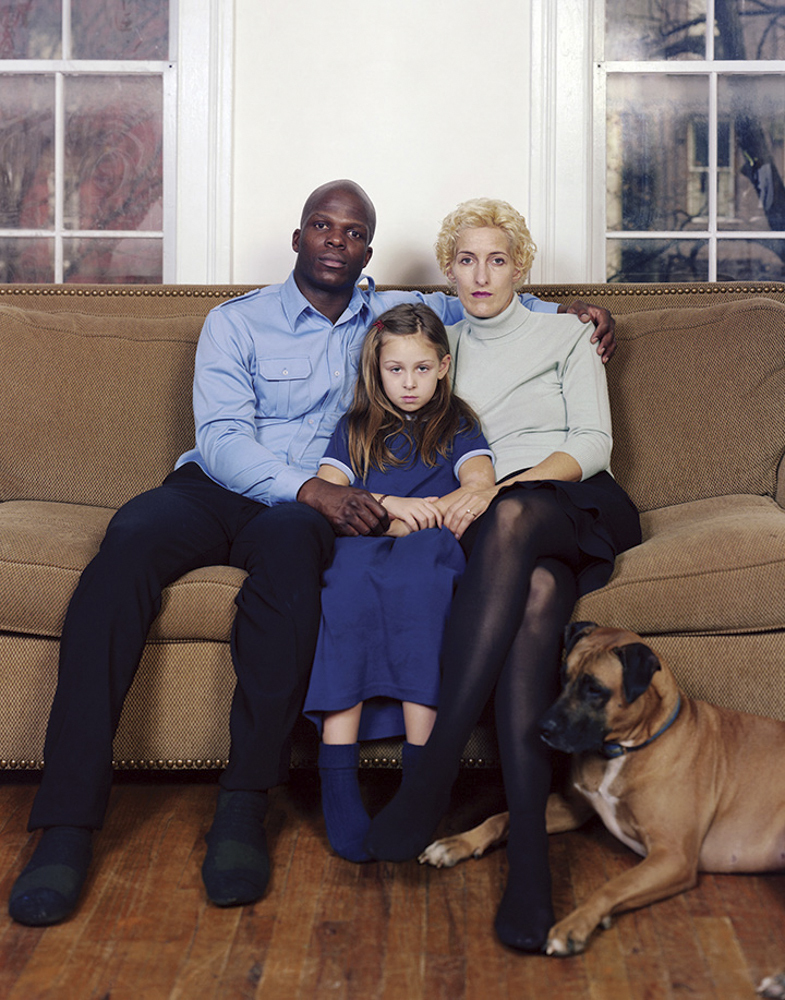 Interracial Couple.2000.152x195cm.Archival Pigment Print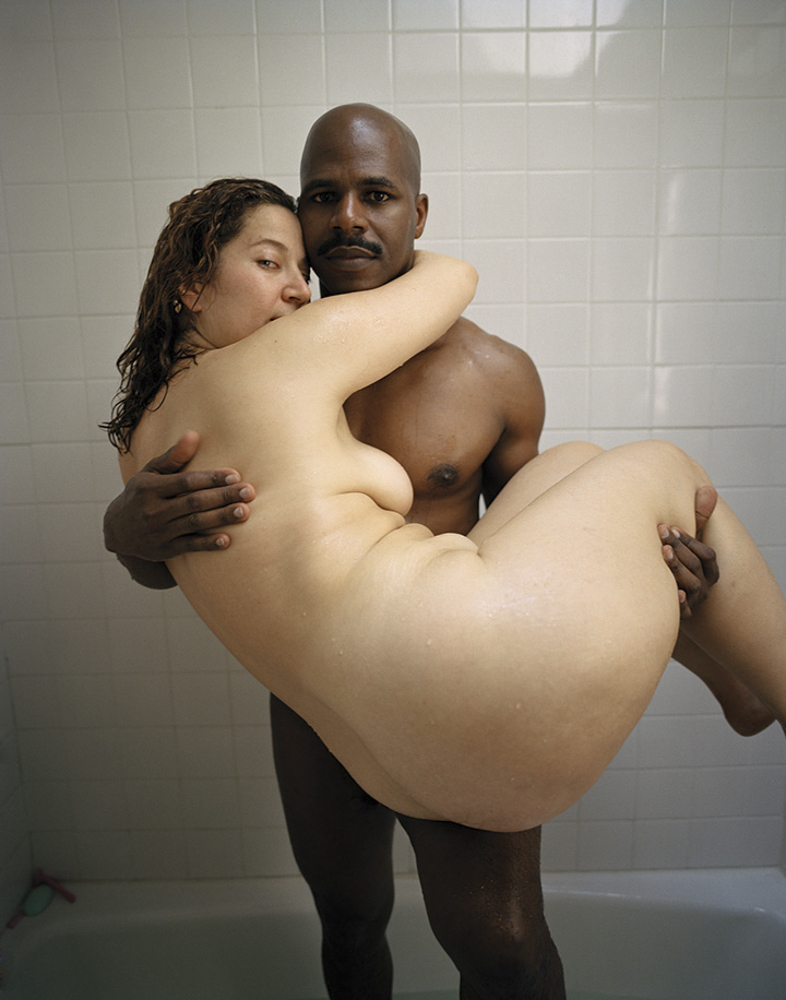 Interracial Couple.2001.152x195cm.Archival Pigment Print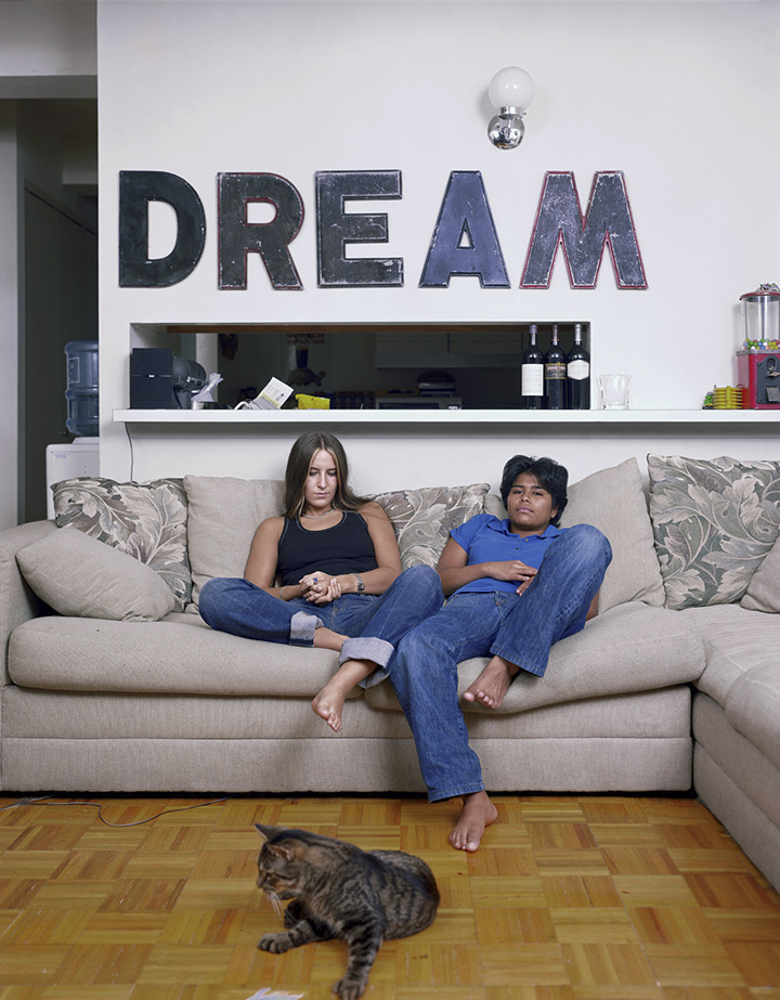 Interracial Couple.2001.152x195cm.Archival Pigment Print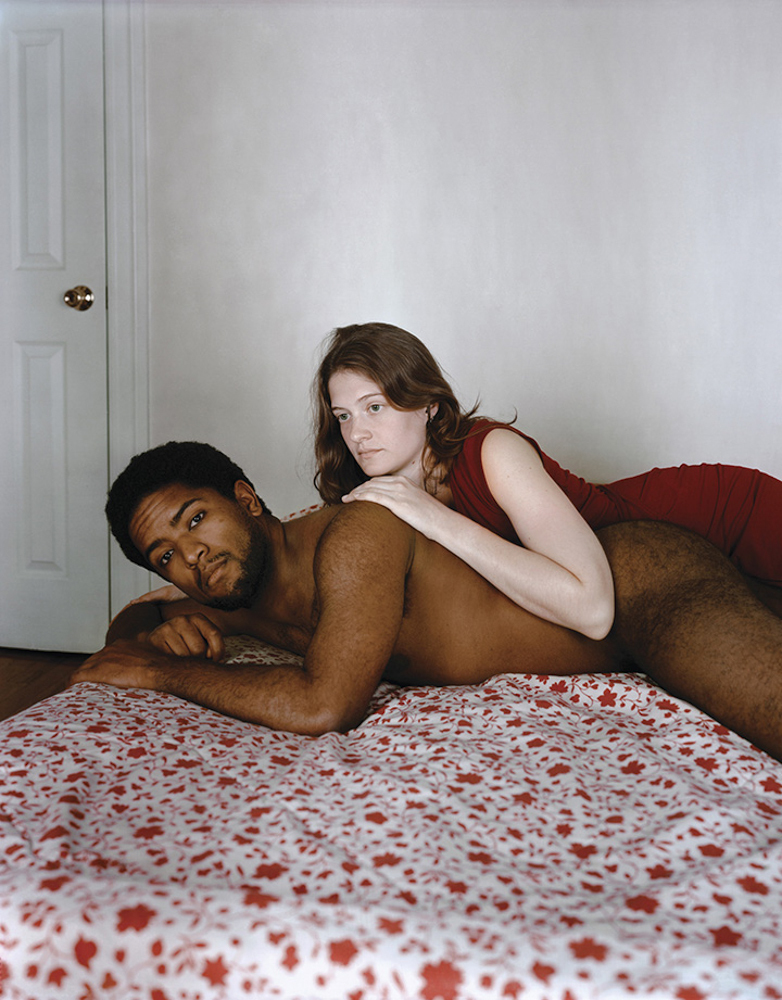 Interracial Couple.2000.152x195cm.Archival Pigment Print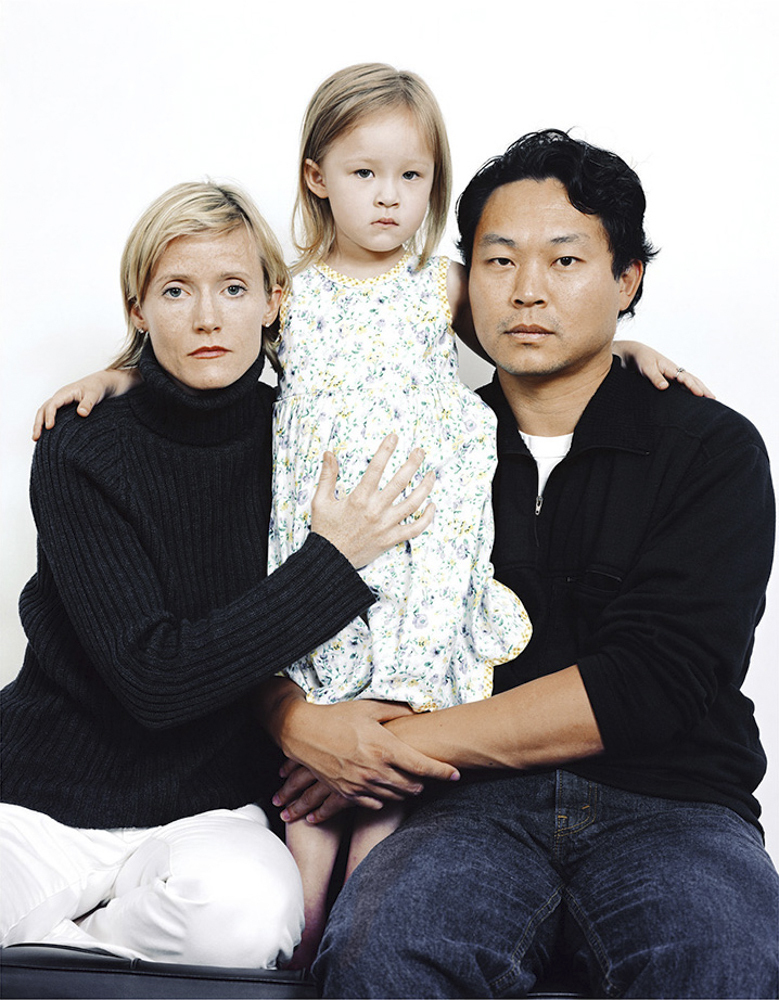 Interracial Couple.2002.152x195cm.Archival Pigment Print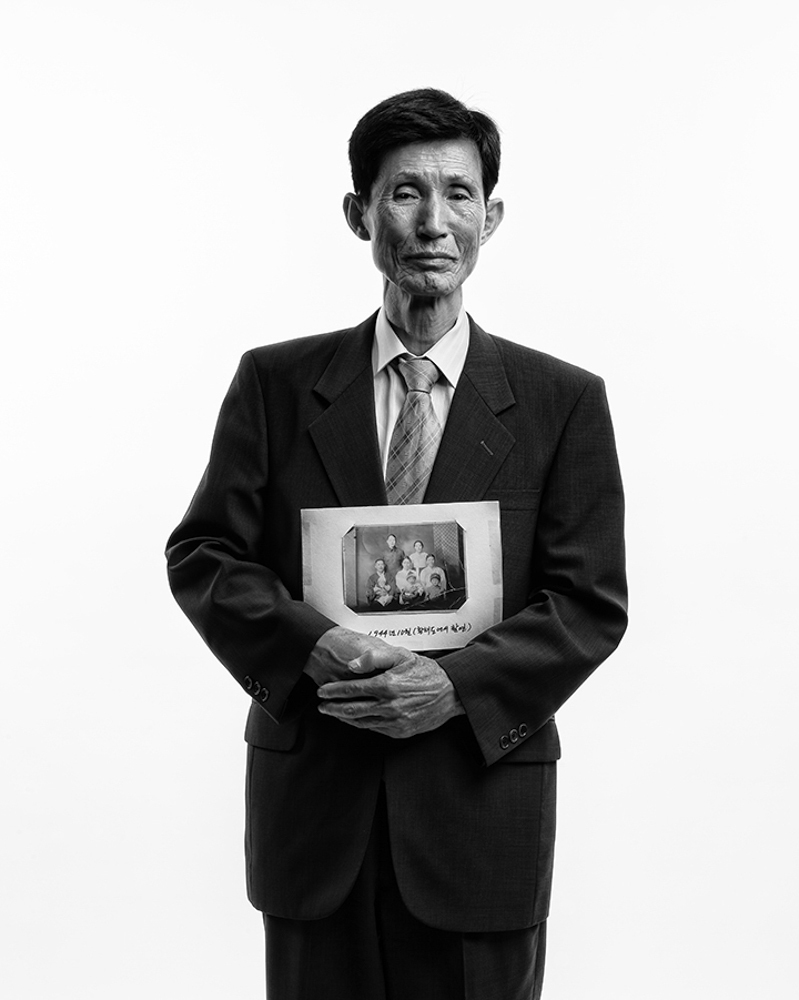 Eternal Family.Yun Byeongguk.2015.152x195cm.Archival Pigment Print
Eternal Family.Lee Baegeun.2015.152x195cm.Archival Pigment Print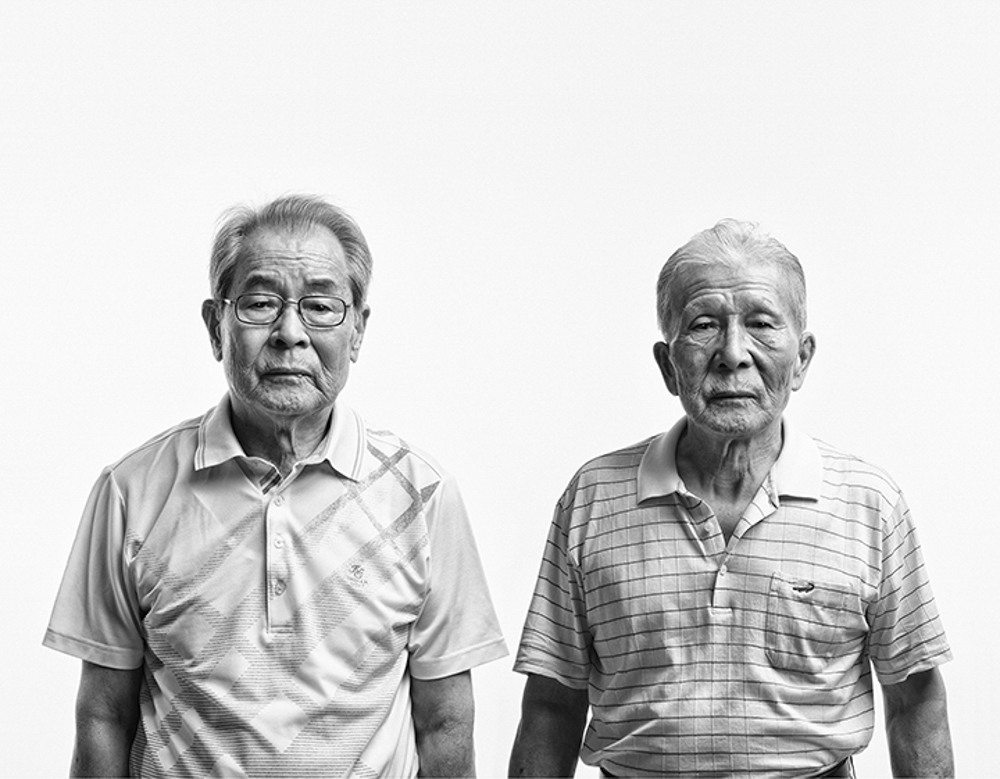 Eternal Family.Lee Baegeun(Father).2015.195x152cm.Archival Pigment Print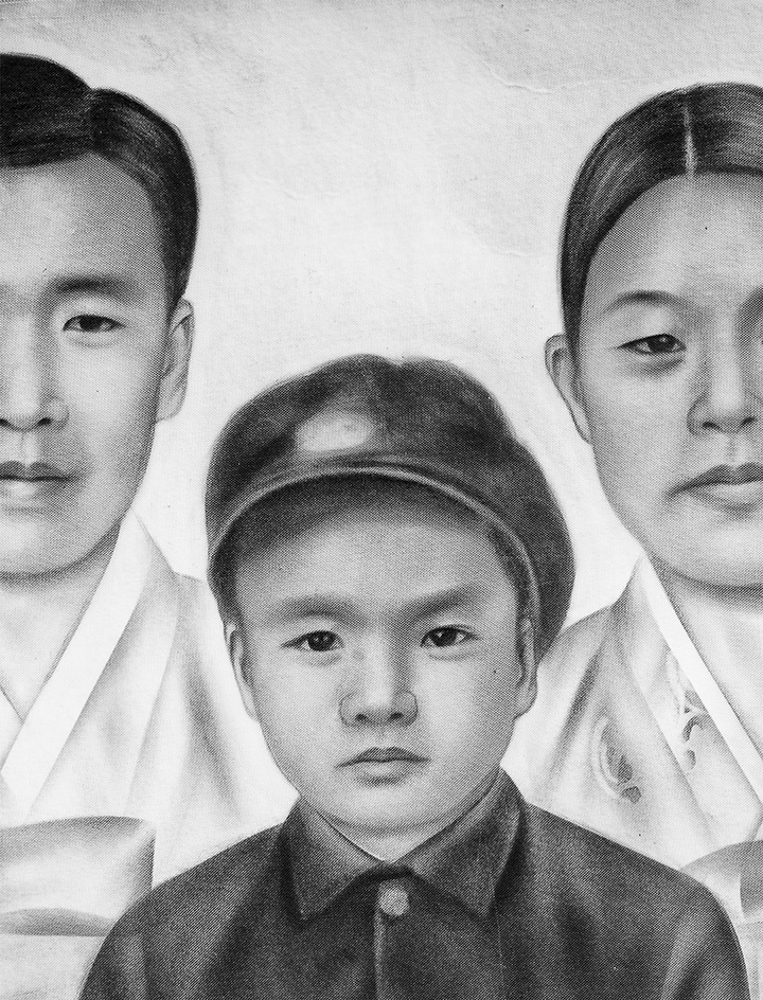 Eternal Family.Kim Hongtae-crop.2015.152x195cm.Archival Pigment Print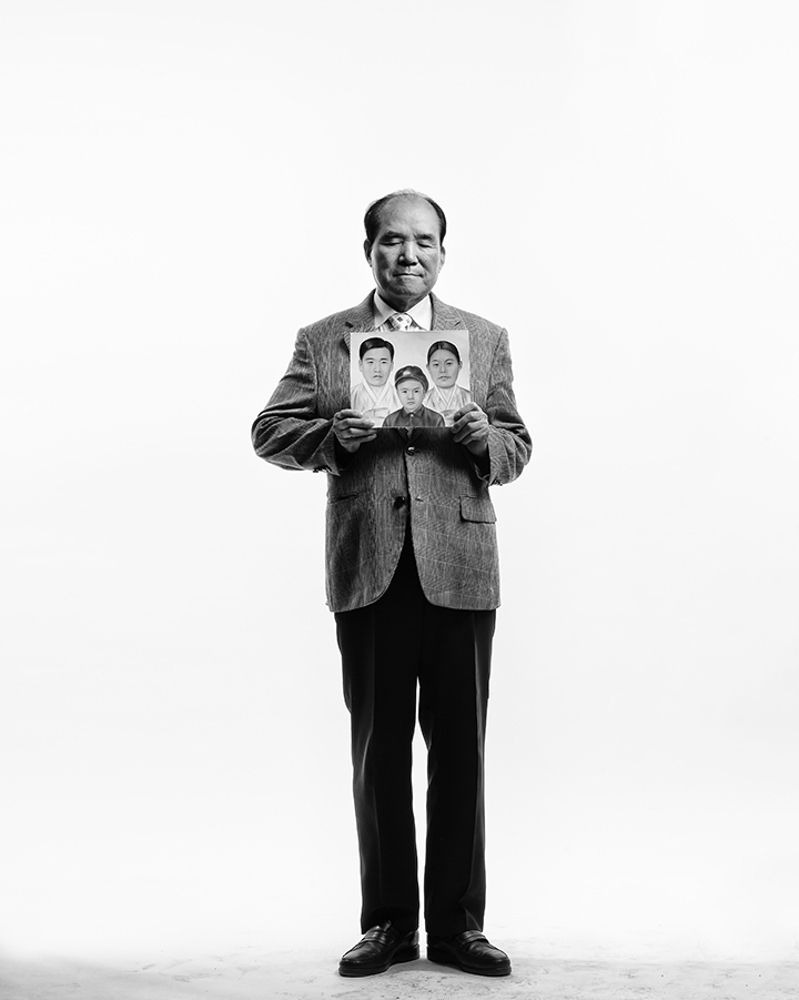 Eternal Family.Kim Hongtae.2015.152x195cm.Archival Pigment Print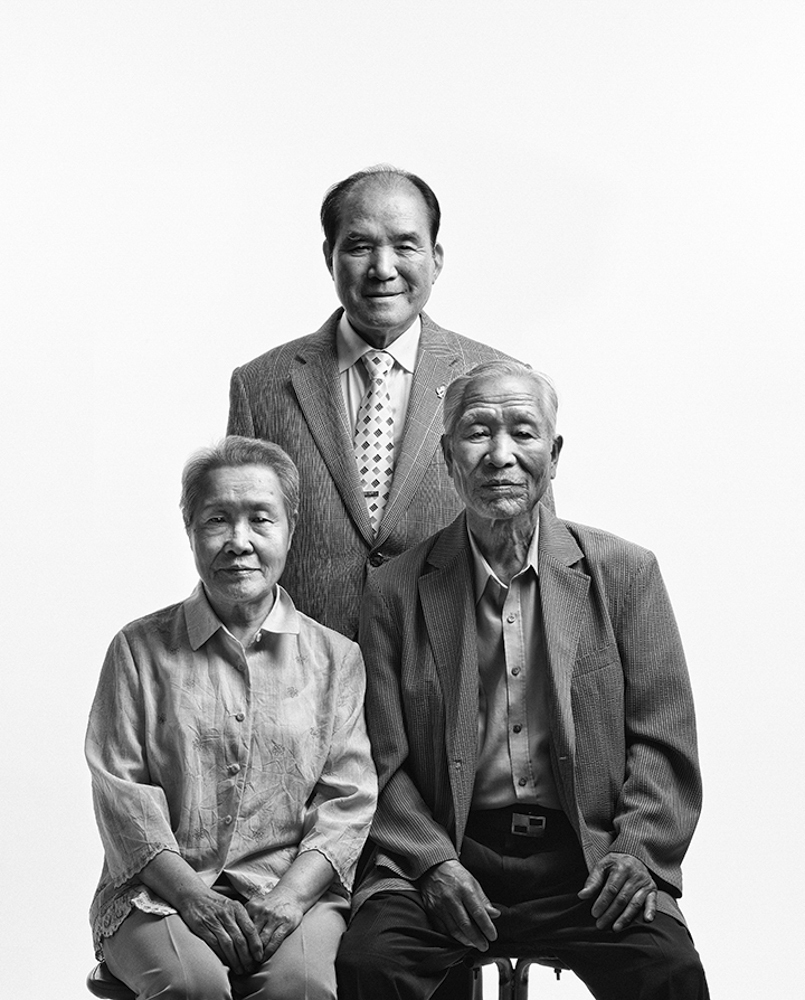 Eternal Family.Kim Hongtae(Mother and Father).2015.152x195cm.Archival Pigment Print

©Soonchoel Byun
National Song Contest & Other Works
邊淳哲